Frequently Asked Questions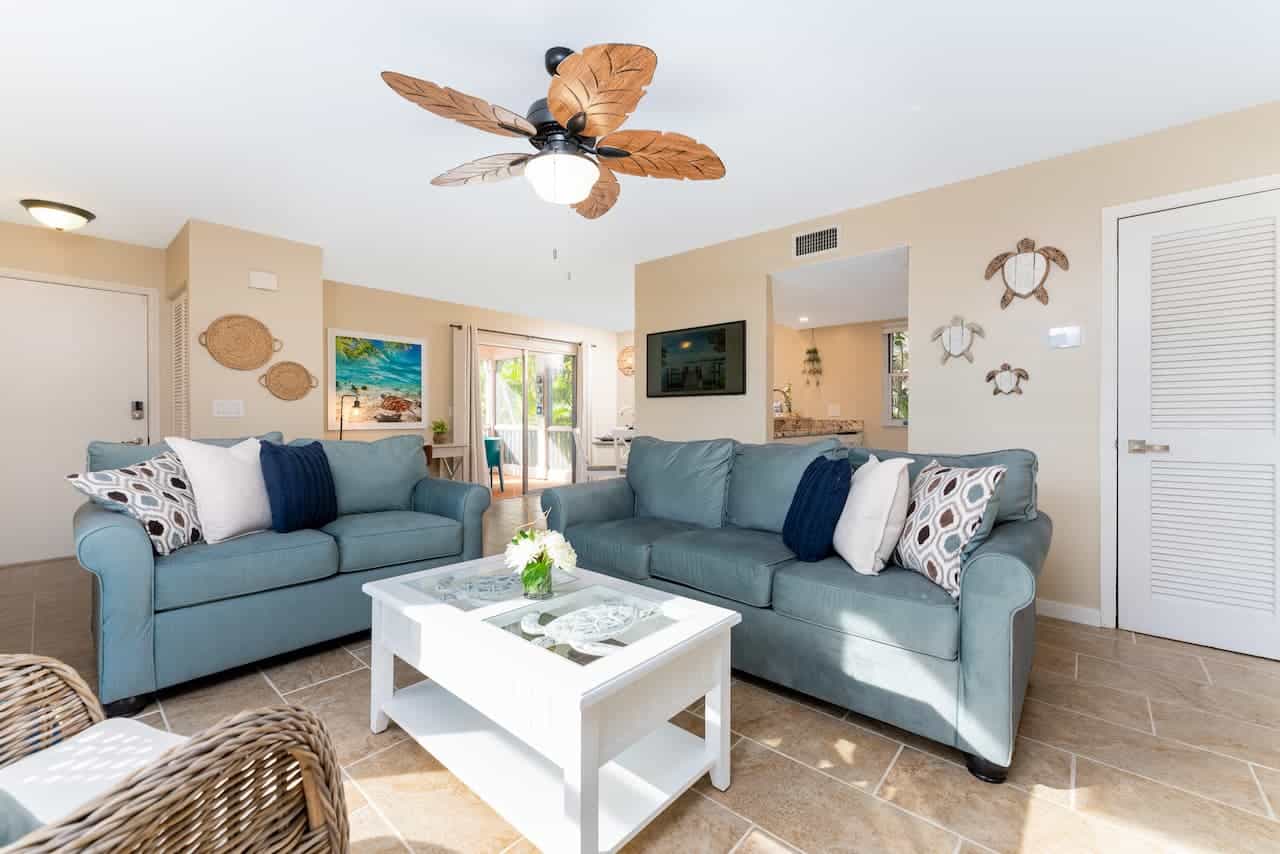 Vacation rentals offer a more home-like feel than hotel rooms. You will have the opportunity to cook your own meals and enjoy views from every room in our properties, which are decorated with unique styles for each individual owner! Also, you can save money on food by preparing your own meals, or opt for takeout if you prefer.
When you book with Paradise Breeze Vacation Rentals and Realty LLC, we will not charge a "guest fee" to advertise on our site. Online travel agents like Airbnb, Homeaway or Booking charge customers an additional fee for advertising their service which is added onto your total cost of renting property through one agent's website without any transparency about where that money goes - but it doesn't have to be! When using direct contact channels (like calling us directly), there isn't this extra surcharge so everyone wins: You save time by cutting out all those middlemen who don't provide anything but ads.
Third-party rental sites like Airbnb, Vrbo, etc are primarily advertising sites which provide maximum visibility for those wanting to find renters for their properties. We do advertise our properties on such websites, however, Paradise Breeze is a full-service provider, that manages the entire process from marketing to maintenance.
CANCELLATIONS – A sixty (60) day notice is required for cancellation. Cancellations that are made more than sixty (60) days prior to arrival date may incur 10% penalty. Termination of this agreement for any reason within the 60 days of the start of the rental period, will result in a forfeiture of deposit and rental monies paid. All charges are assessed in US Funds.
Check-in is at 4 pm and guests can arrive any time after. All of our properties have lock boxes or keypads and you can go directly to the property. Check-out is at 11 am on the designated date of checkout. Upon your departure we ask that you take the trash out, start the dishwasher with detergent, secure all windows and doors, turn off fans, lights and set AC to 75 F.
Housekeeping & Maintenance
No. Guests are instructed not to clean or launder any items on the property upon their departure. Our cleaners follows very strict cleaning and sanitation standards and is required to clean the property after each guest vacates.
In order to keep our rates lower than hotel rates, we do not provide daily maid service. This leaves you with privacy and the convenience of washing your own laundry as most properties have a washer and dryer. Maid service may be arranged for a nominal fee. Please contact our office for details.
Properties are stocked with a starter kit of basic necessities in the kitchen and bath, but these items must be replenished by guest as needed.
Linen, bath towels and kitchen towels are provided. Beach towels are also provided.
Our rentals are equipped with most items that you would find in the average household. Our properties feature a full-size refrigerator, microwave, stove/oven, utensils, dishes, pots and pans, linens, etc. even hairdryers. Start-up amenities include automatic dishwasher soap, hand soap, laundry detergent, limited supply of toilet paper and paper towels. Any supplies beyond the initial start-up amenities are to be supplied by the guest
The pool heaters will turn on at the appropriate time and go off in the evening, there is some cooling off overnight when the air temperature falls. In the cooler winter months, it can be difficult to keep water warm. Heating units are designed to work at certain temperatures. If the outside air temperature drops below 55° Fahrenheit, electric heating pumps do not operate as effectively and can cause problems with your pool's functionality. Failure of such devices to heat the pool to the desired temperature is outside of our control and is regarded as an act of nature, not a mechanical failure and no refunds will be given for problems due to cold weather.
A deposit of 50% of the total booking amount is required immediately upon booking. Vacation rental payments can be made via Wire Transfer, Check, or Credit Card. Payment must be received within 5 business days. The advance payment is NOT a damage deposit. The balance of the rent and damage deposit is due (60) sixty days prior to your check-in date. In an effort to keep our rates lower we ask that payments be made by check or e-check (available for US banks only). If you choose to make payment by credit card there is a 3.5% processing fee. The processing fee can be avoided by paying through one of the methods listed above.
We will return your lost item to you if you call us within two weeks of your departure date. A $20 handling fee, plus postage, will be assessed for all lost & found items that have been recovered and returned. Any items not claimed within two weeks will be donated to a local charity.